Archaeology of Daily Life | Female Beauty
Glass Bird Bottle Neck
By Meagan Young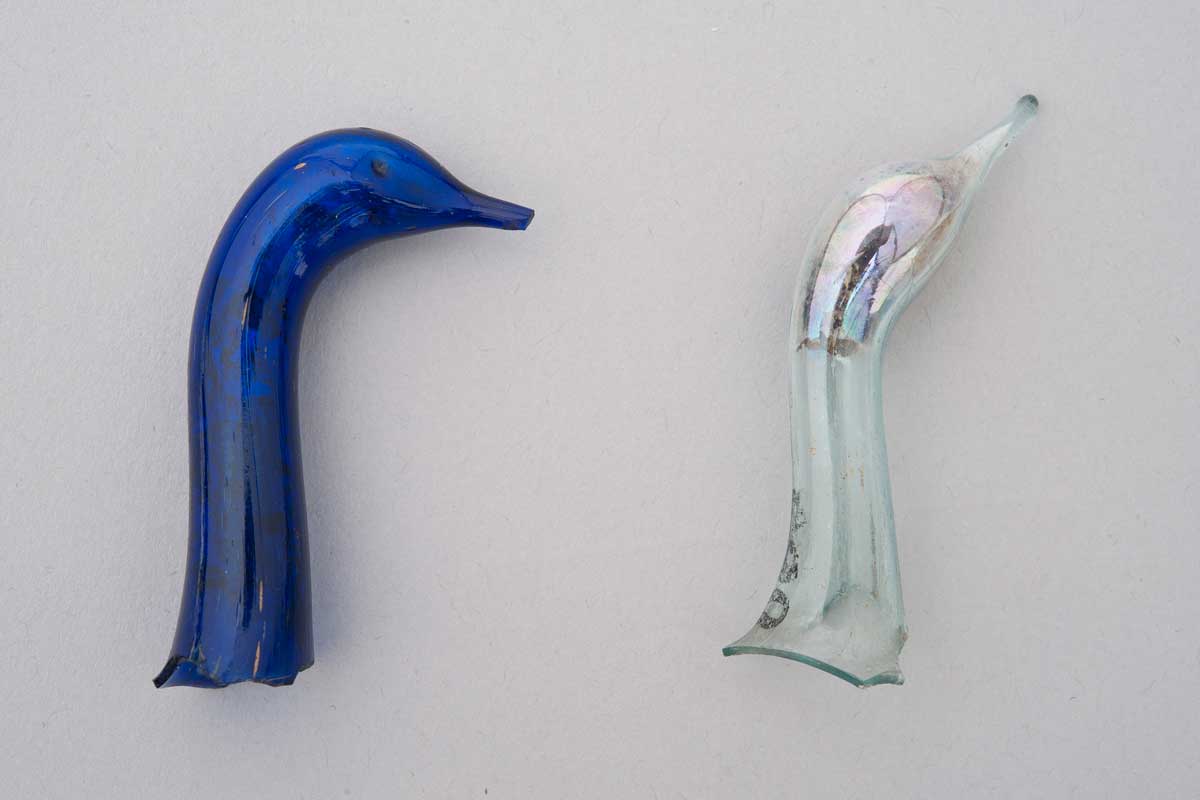 These two glass bird heads are the remaining fragments of two Roman perfume bottles. They both measure approximately 5 centimeters in length, but their provenance and exact date are not known. As shown in the picture above, the bird fragment on the left is a deep blue color and the one on the right is iridescent.
The art of glass-blowing significantly revolutionized industrial practices during the time of the Roman Empire. Initially, casting and core-forming were used to create glass vessels. But like the wheel was to pottery, glass-blowing allowed craftsmen to produce a larger volume of vessels in a smaller time period. Unlike other traditional techniques of glass-making, glass-blowing also enabled a greater number of shapes and sizes to be made.
Bird-shaped glass vessels, used as perfume bottles, have been found in different far-flung regions of the Roman Empire. The scented oils were sealed inside the glass vessels, and the owner would break off the tail to access them. One such example is currently in the National Museum in Damascus, Syria. This piece has been dated between the 1st centuries B.C.E. and C.E.
Rome brought in supplies from all across the Mediterranean and beyond. Gaul, Egypt, and Mesopotamia produced numerous luxury goods that were much desired by the denizens of the Roman empire. Thebes and Syria, for instance, were known for their extremely expensive scented oils. According to Pliny, Thebes (in Southern Egypt) produced more oil than Arabia (modern Syria), but Arabia produced higher quality oil. Egypt also produced a large quantity of glassware, some of which was expressly designed to store and transport the region's equally desired cosmetic oils. These facts help explain the presence of a Roman bird-shaped glass vessel in the National Museum in Damascus. The glass bird in Damascus also testifies to the extent of trading in the Eastern half of the empire. Residual matter from oils and other contents have been found in several unearthed Roman glass vessels.
A strikingly similar piece to the fragments in Baltimore can be found in the Corning Museum's glass collection. The head of the Corning Museum's bird-shaped vessel is almost identical to the perfume-bottle fragments in the JHUAM. The bird-shaped glass vessel in the Corning Museum is dated to the 1st century C.E. and is thought to have been discovered in either Northern Italy or the Rhinelands.
Based on these parallels, it is possible to see that the glass bird heads in the JHUAM collection were part of similar vessels, designed to store either perfume or scented oils. These glass vessels and their contents would have been considered highly prized luxury items by their Roman owners.
References
Dalby 2000, 182-184
"Roman Bird-shaped Glass Bottle Used for Perfume Storage. From Syria, C. 64 BC – 31 AD."
Photograph. National Museum, Damascus. "Vessel Shaped like a Bird." Corning Museum of Glass – Objects.