Students
CLASS VISITS TO THE JHAM
Single Visit
Each semester, many instructors supplement their class lectures and discussions by bringing their students to see objects in person at the Archaeological Museum. We welcome these visits, and ask students to care for ancient collections by following our Visitor Guidelines. No food, drinks, chewing gum or trash of any kind can be brought into the museum space, as all of these materials can attract insects and other biological pests that can damage the museum collection. Tightly closed water bottles stored inside backpacks and bags may be brought into the museum, but these must be stored in our museum cubbies during visits; students must step outside the museum to drink from these containers.
Students are welcome to take notes or draw in the museum as part of class visits. However, only paper and pencil is allowed as ink and other media can stain ancient items. We also do not allow phones, cameras, iPads, tablets or laptops as these can fall on museum items and damage them, or can be distractions that threaten the safety of the museum collection.
Students coming to the museum for single class visits typically gather at the front door of the museum and wait for a staff member to escort them inside. Museum doors cannot be propped or held open for security reasons.
Weekly Class Meetings
Some instructors teach courses that meet weekly in the museum and involve hands-on work with ancient objects. These opportunities comes with high expectations for student conduct in addition to all of the procedures listed above.
All students planning to work with museum objects must complete a Handling quiz in the museum before they are allowed to do so. The quiz typically takes 15-25 minutes to complete and involves reading A Guide to Handling Anthropological Museum Collections (available in the museum) and answering a few questions. The quiz is offered during open hours without an appointment. If a student's class schedule conflicts with the museum's open hours, they can contact Kate Gallagher through the General Inquiries Form to arrange an appointment. Even after taking the quiz, all object handling must be supervised by a museum staff member. Access to museum objects can be revoked any time a student is not following museum procedures.
For classes that meet weekly in the museum, students will be instructed to gather outside the museum's back door and wait to be escorted in either by their instructor or museum staff.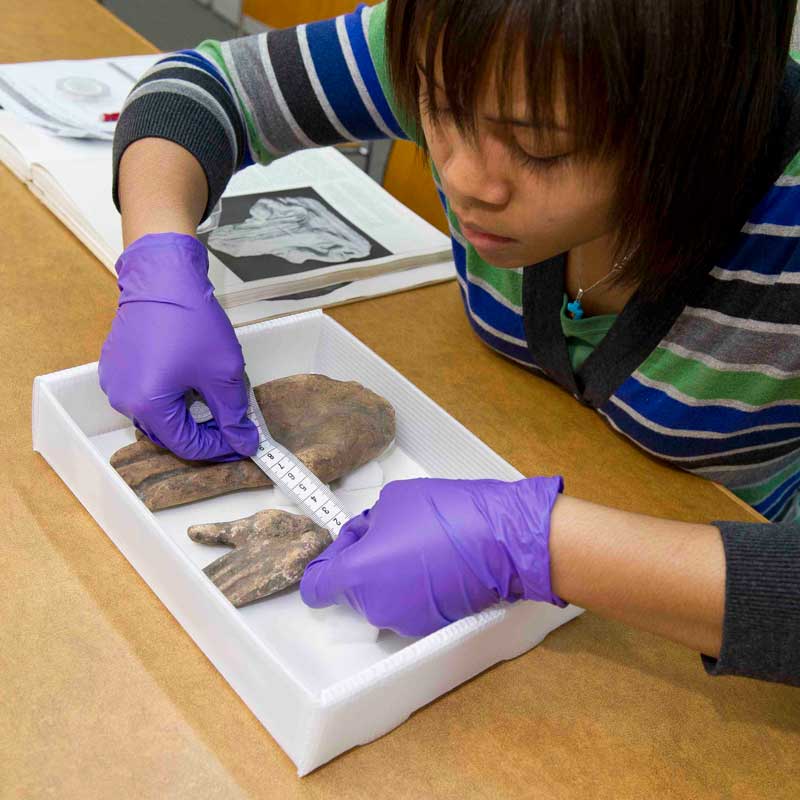 Independent Research Projects
Objects in the Archaeological Museum collections may be used for original research though this requires a written proposal, the support of faculty advisors and an adequate time frame (typically a minimum of one year). Please download the research proposal process and guidelines here. Decisions about whether research projects are feasible will be made based on the strength of the student proposal and the availability of museum staff to assist in providing access to the museum collection and records.
Information about the variety of objects in the collections can be found on the Scope page. Searches can also be completed using the search button in upper right corner of the website.
Work with Us
The museum offers employment opportunities for both undergraduates (except freshman) and graduate students (except first year students). Most student shifts are typically 3 to 6 hours per week and involve performing tasks such as greeting visitors and assisting with daily museum operations. In addition, a students are assigned projects that are museum priorities. Previous projects have included transcribing archival documentation, processing digital images, making archival boxes, and cataloging artifacts for our database. Graduate students often conduct in-depth research and cataloging of objects in the collection, again based on museum priorities. Student positions are posted on our Facebook page when they are available.
Extra-Curricular Activities
The Archaeological Museum encourages JHU student organizations to contact us to discuss ideas about how the museum might be a potential resource for your student group.
Please note that the museum space is not available for rent or for events that do not relate to the museum's mission.