Latin Funerary Inscriptions | Epitaphs for Children
Victris
By Elisabeth Campbell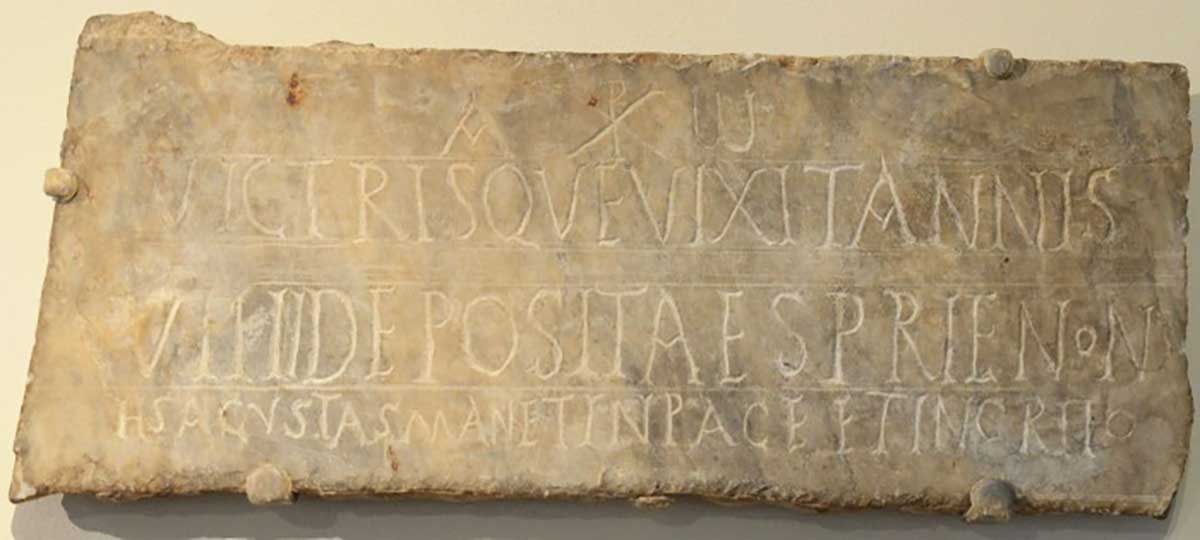 Translation
"Victris who lived 9 years.
She was laid to rest on the day before the Nones of August [August 4].
She rests in peace and in Christ."
Description
This inscription marked the tomb of a Christian girl who died when she was nine. Instead of the earlier formulation "Dis Manibus" (to the Spirits of the Dead) this one has the Greek letters alpha and omega and the Chi Rho at the top of the stone. Alpha and Omega stand for beginning and end, while the Chi Rho is one of the earliest christograms. It is composed of the Greek letters chi and rho which are the first two letters of the word Christos.
Pagan inscriptions did not mention the date of death. Christian inscriptions, however, frequently record the day because it was considered the second birthday (dies natalis) of the deceased who was about to begin a new life after death.
References
O. Marucchi, Christian Epigraphy, an elementary treatise : with a collection of ancient Christian inscriptions, mainly of Roman origin, tr. by J. Armine Willis, Cambridge: Cambridge University Press 1912, p. 310, no. 253.
H.L. Wilson and R. van Deman Magoffin, "Latin Inscriptions at the Johns Hopkins University VIII," American Journal of Philology 35 (1914), 421-434, 432.
The inscription is described in the US Epigraphy Project hosted by Brown University.