Recreating Ancient Greek Ceramics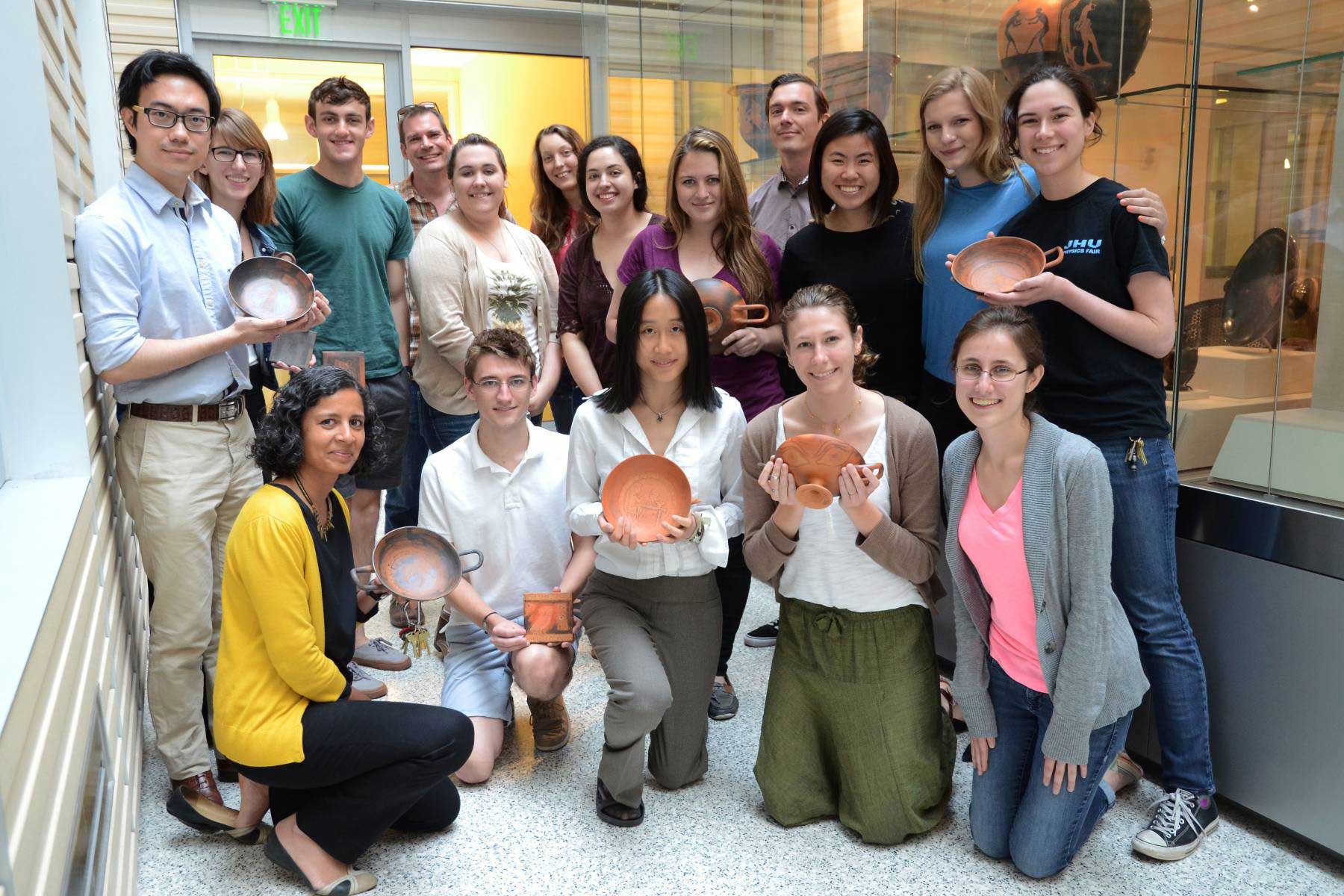 In Spring 2015, Sanchita Balachandran from the Archaeological Museum co-taught an interactive, hands-on course titled "Recreating Ancient Greek Ceramics" with expert ceramics artist Matthew Hyleck of Baltimore Clayworks, Along with then-JHU graduate student Ross Brendle, ceramics artist Camilla Ascher and thirteen undergraduate students, the course attempted to recreate one of the most iconic, beautiful and technologically complex objects known from ancient Athens–the red-figure kylix or cup. The course brought together students across disciplines, and also involved extensive consultation with art historians, archaeologists, art conservators and materials scientists across the country in the attempt to recreate vessels similar to 6th to 4th century BCE ancient examples on view at the Archaeological Museum. We drew our inspiration from these ancient these so-called "red-figure" cups (named for the red figures against black backgrounds) that were among the first items to be purchased for display and study by the Baltimore Society of the Archaeological Institute of America in 1887.  Throughout the course, students made replicas of these objects as part of a team project, reported on their progress in the course blog, wrote workshop journals capturing their thought processes as they worked, and created their own tiles to fire in our custom-built kiln.
The course was inspired by the tremendous wealth of archaeological, art historical and scientific scholarship that exists on the subject of Athenian vases. And yet many questions remain about how these iconic objects were made. The aim of this class was to understand how these objects were originally manufactured, painted and fired, and to do so through collaborative, interdisciplinary work. The course explored many unanswered questions in the existing scholarship in a hands-on way, discussing and challenging the published literature on these objects, and developing new questions for further research. The syllabus is available here.
This experimental course was generously supported by the JHU Program in Museums and Society and the Andrew W. Mellon Foundation.  As part of the project, the short film "Mysteries of the Kylix" (running time 19 minutes) documented the experience of recreating the vessels.  A series of radio conversations about the project, by Sanchita Balachandran, Matthew Hyleck and student participants, aired on Baltimore's WYPR station as part of the Humanities Connection segment. Additional reporting in The Baltimore Sun newspaper described some of the new research questions that emerged from this course.