Recreating Ancient Greek Ceramics
Week 3–An Apprenticeship Begins
By Haley Huang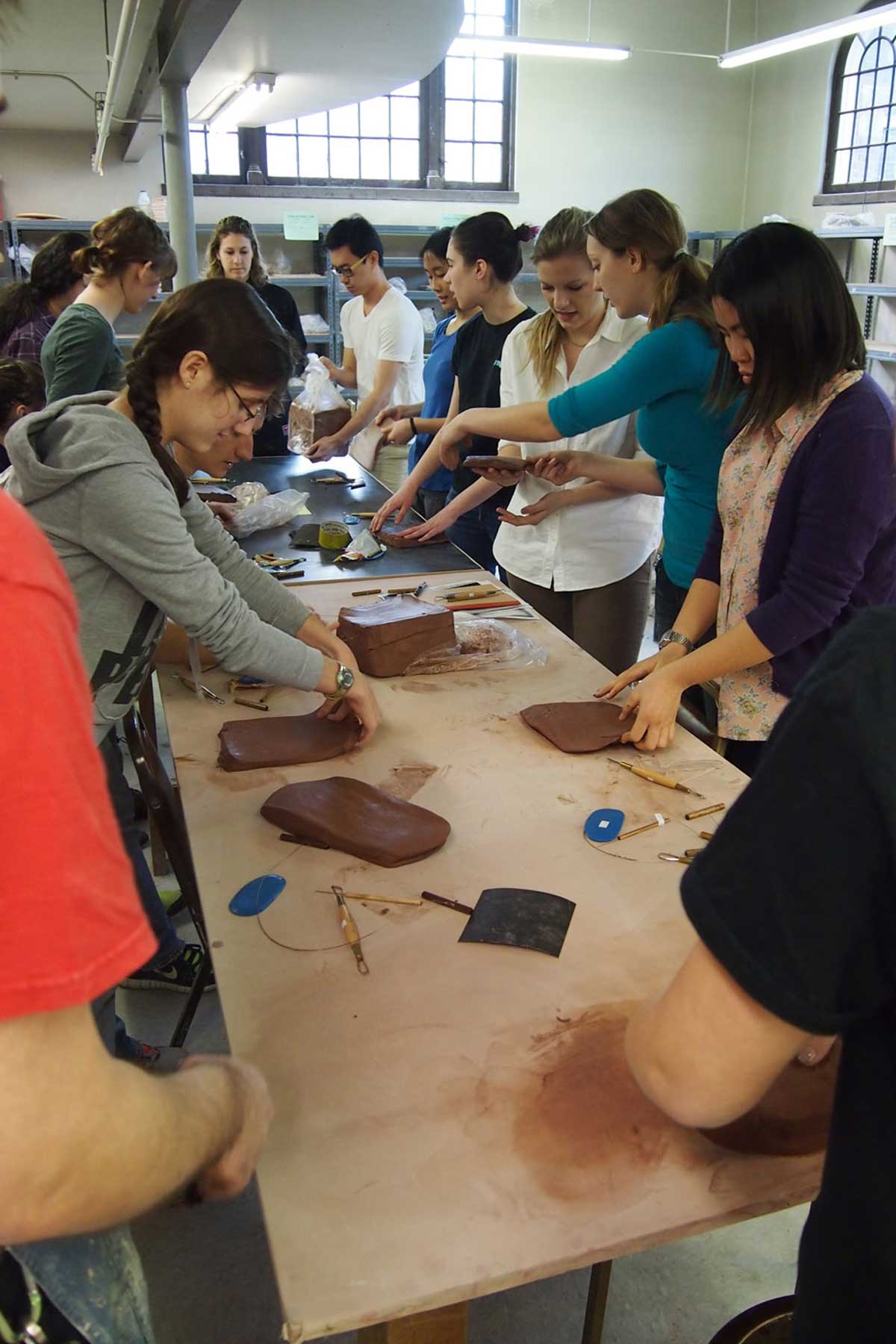 ". . . the potter's apprentice must spend an initial period of observation and imitation, and ultimately he has to undergo a long practicum on the wheel in order to master the physical, mechanical, and technical coordination required to fully harness the power of the wheel with the skill of his hands." –Eleni Hasaki, "Craft Apprenticeship in Ancient Greece: Reaching Beyond the Masters." In Archaeology and Apprenticeship: Body Knowledge, Identity, and Communities of Practice, 2012.
It's during this third week that we finally began to understand the complexity and difficulty behind the creation of our ancient cups. After a short 15-minute bus ride from campus, we arrived at Baltimore Clayworks, the epicenter for our apprenticeship. Our graduate student mentor, Ross Brendle, led a brief discussion on ancient apprenticeship models and attributions to ancient master potters before we turned to modern master potter, Matthew Hyleck, for an introduction to ceramics. Over half the class had never worked with clay before, and, finding myself in that category, I was quickly overwhelmed by the words "bisque," "shrinkage," "absorption," "leather-hard," "bone dry," "grog," "slip," and so on. But as examples of these different stages of clay were passed around, I began to gain a tactile understanding of the terms. Leather-hard clay felt sturdy, but could easily be marred. Bone dry felt more unyielding, yet still could surprisingly be scratched. Slip looked shiny and smooth, but generated friction against a finger. Matt pointed out our resources: a drying rack, wedging stations, slab rollers, and sinks. He then took us for a tour of the building, which was filled to the brim of various artists' works. Some plain, some outlandish, and some as precisely decorated as our ancient pots. In the basement were fine examples of modern-day kilns, and amongst the metal beasts was our updraft kiln – large, clay slabs formed in cylindrical and domed pieces.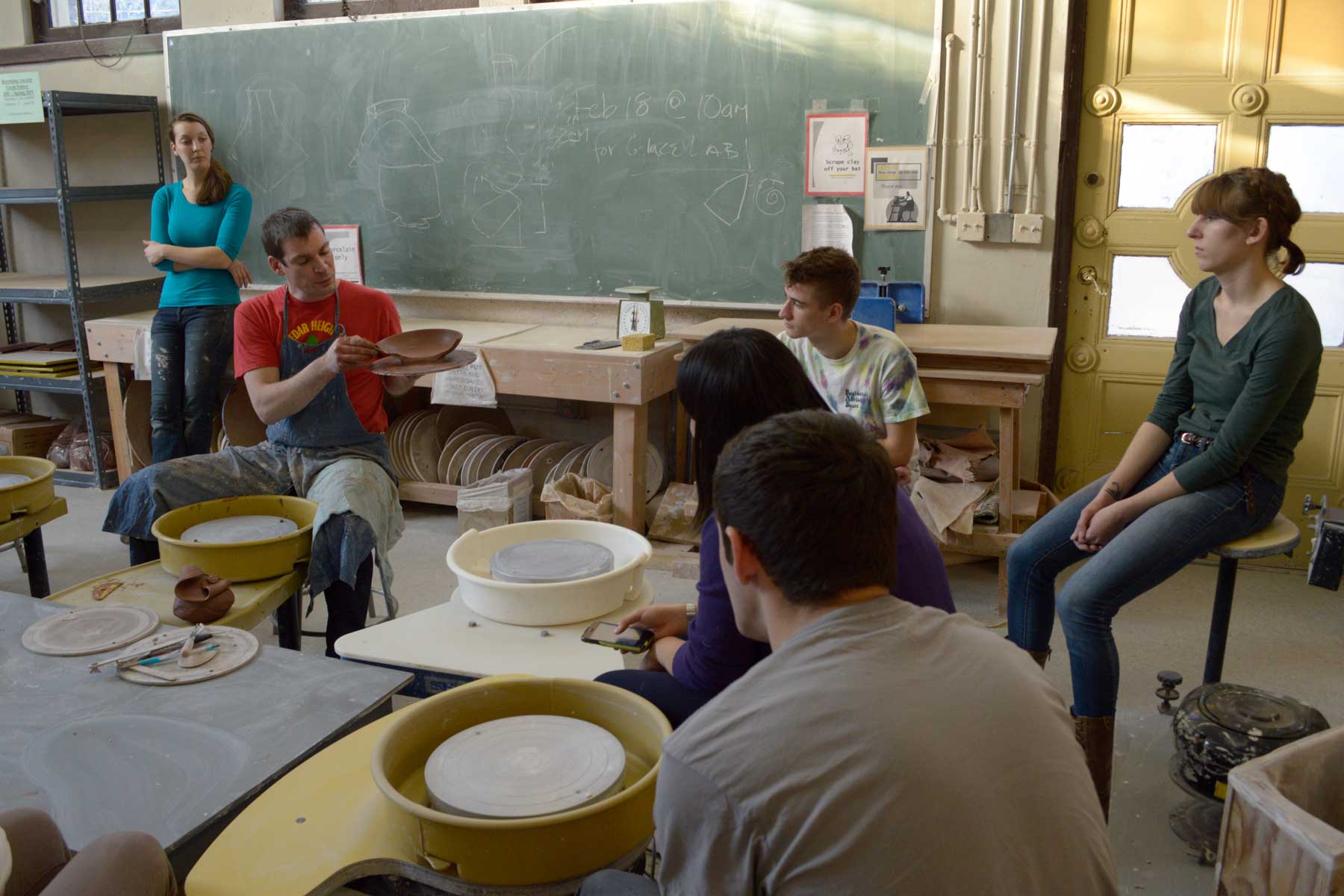 Our next task was to produce small, clay tiles. Sponges, wires, needles, ribs, and trimming tools were passed around. Matt performed a thorough demonstration of slicing through a large block of clay using his wire, followed by a slapping of clay to table to thin it out, then a pass through the slab rollers to even it, and finally a four-sided cut to trace out a 5 x 5 inch square of clay. We quickly discovered that even slicing off the correct amount of clay was not as simple as Matt made it seem. We did our best to salvage our weirdly lopsided slabs by slapping them against the table, but soon discovered that they enjoyed getting stuck and cracked. Finally fed up, we moved on to the slab rollers, which revealed just how uneven our rectangles were. When we were able to cut out just one or two tiles, we had to "wedge" the remaining clay back into a usable state, which, after a few seconds, left our hands smarting and red.
Completely exhausted by cleanup time, we settled around one of the potter's wheels to watch Matt throw the bowl portion of a kylix. What started out as 2.5 pounds of clay transformed beneath his fingers. First it became a dome, and then a tall trunk, and then a flat cylinder. It began to take a curved shape with sides growing taller and shorter as the depth of the bowl changed. It looked like magic to us. When the bowl was to his liking, he lifted it. Then, to the collective dismay of the room, cut it in half. He showed us the thickness of the walls and base before crushing it with his hands, laying waste to the image of what we hoped we could achieve after several months of relentless practice. We had all glimpsed, and felt in our shoulders, the long road ahead of us apprentices.